The journey comes to an end!!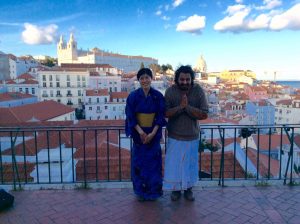 Stop Press!
After 22 countries, 46,000 km, 500 days on the road conducting 86 training & consulting assignments  and working with more than 5000 stakeholders the journey come to an end. We had so many options for the next destination, looking at the Atlantic Ocean in Portugal, we were discussing "Let's fly to Argentina" "No, maybe start from Canada!" "Or crossing Africa" but somehow we ended up saying that we need to see our old folks and tell our stories before our next trip. So… my wife will fly to Japan to catch up the glimpse of cherry blossom and I will fly back to India to get a visa to Japan.
We have been always together until now so this separation will be a bit challenging but hopefully we can cope and it will strengthen our relationship. Well… I probably can not wait to enjoy the single life for a while 
🙂
Thank you all for following our journey and keep encouraging and sending us love. Thank you to golden hearts on the road… without you, we couldn't carry on our journey this far.
Do you think we will finish our adventure? Nooooo.
Our adventure will continue but how? and where? we still don't know but next stage will be very exciting for sure so stay tuned for Part 2! Till then we will be sharing hundreds of stories that we could not share due to time constraints while on the road and will be doing it now!!
Arigato & Nandri
Lots of love to you all,
Sushi & Sambar (Sunil & Yuka)